During Facebook's F8 Conference today, Facebook announced some major changes coming to your mobile devices and desktop experiences.  This new layout is the biggest change the we can ever remember.  Some of the key things that are rolling out are:
Facebook Layout
Facebook Groups
Facebook Dating
Secret Crush
THE NEW FACEBOOK LAYOUT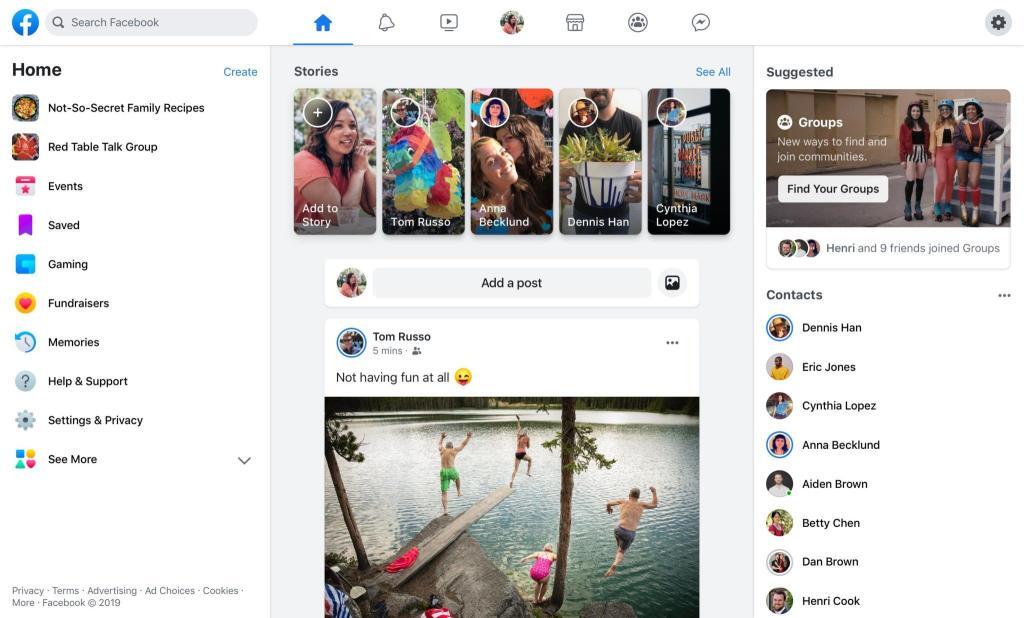 The new Facebook Layout started rolling out to mobile devices today and is expected to hit all desktop users in the next coming months.  You will see a major shift in the layout to be more focused on Groups, Stories and private communications.
Some of the new features include:
Facebook Groups & Stories will have a top placement and more prominent visibility in the layout.
Users can now save their spot in the Newsfeed as they are scrolling so they can come back to that exact spot later.
Dark Mode can be activated at night or when watching videos to not strain your eyes.
And of course, you can't forget... Facebook has a new logo.
FACEBOOK GROUPS
Facebook is really beginning to hold Facebook Groups on a pedestal.  If you are not already currently utilizing Facebook Groups for your business, I highly recommend you get on board.
New tools will roll out that will quickly be able to match you to Groups based on your likes, interests and other Groups you currently belong to.
Users will be able to share directly to Groups from their timelines; similar to how users currently share posts with their family and friends in the Newsfeed.
Group Admins will be able to start posting anonymously on behalf of other users.
A new chat feature will be available that users can use to create separate subjects in the chatbox that will work similar to threads on a forum.
FACEBOOK DATING
Yes, we are not joking.  Facebook will now have a portion of the platform dedicated to dating and being matched to your crushes... anonymously.
Users will now be able to opt into Facebook Dating.
Your personal Facebook Profile will be different than your Facebook Dating Profile.
Facebook will match you to potential partners based on your likes, activity and interests.
SECRET CRUSH
Secret Crush will be a private list that users can opt into and list people they have a crush on.  If that same person lists you on their list as a crush, then Facebook will alert you both that you are a match.  If you never match, Facebook will never alert anyone.
... Ashley Madison anyone?  Geesh...